What should we eat during the changing of seasons?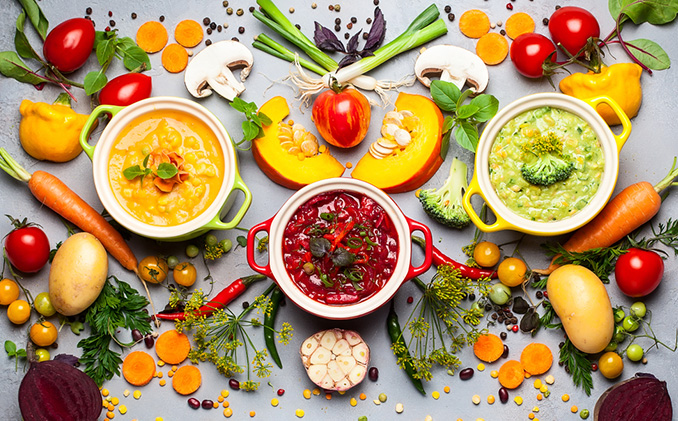 During the changing of seasons when the daily temperature range grows wider, immunity can easily become weakened. In particular, you should pay attention to the health of your respiratory system due to dry air. To maintain basic physical strength, not only regular exercise and health management, but also taking in nutrients through good food is important.
A warm vegetable soup that heals the weary body and makes it possible to effectively take in essential vitamins and fiber! Let me share a secret!
Minestrone soup to increase your vital energy
Minestrone is a favorite food of Italians. In particular, it is effective in coping with the cold in winter. Have a look at a recipe which stimulates the appetite with the smell of tomatoes and energizes the weary body with various vegetables!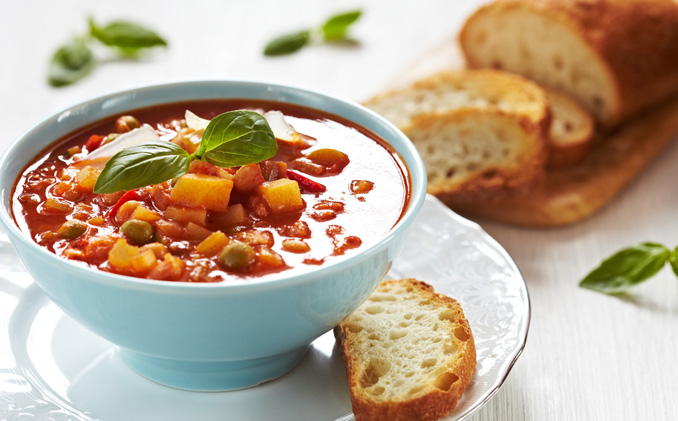 Ingredients (2 servings): 1 tomato, 1 onion, 1/2 carrot, 2 leaves of cabbage, 2 cloves of garlic, tomato paste 3T, water 1L, salt, pepper and cooking oil
STEP 1. Cut the tomatoes, onions, carrots and cabbages into small cubes.
STEP 2. Thinly slice the garlic.
STEP 3. Oil a deep pan or saucepan and stir-fry the chopped garlic, onions and carrots.
STEP 4. Add the tomatoes and tomato paste, pour water and boil them for an additional 10 minutes.
STEP 5. When the vegetables are cooked and have become soft, add the cabbages, boil them a little
longer, and add salt and pepper.
Depending on your taste, add pasta or rice, and boil them. Then, it will be one wholesome meal of minestrone soup. When tomatoes are heated, the nutrients will be absorbed more efficiently. So on a chilly autumn day, have a minestrone soup as a light meal!
Potato cream soup makes us feel better with the cozy texture of the soup
The soft texture of potato cream soup will make you feel amazing. You'll surely be reminded of it on a cold day. As it contains potatoes and milk, the potato cream soup is sufficient for one meal. It's perfect for a rainy autumn day!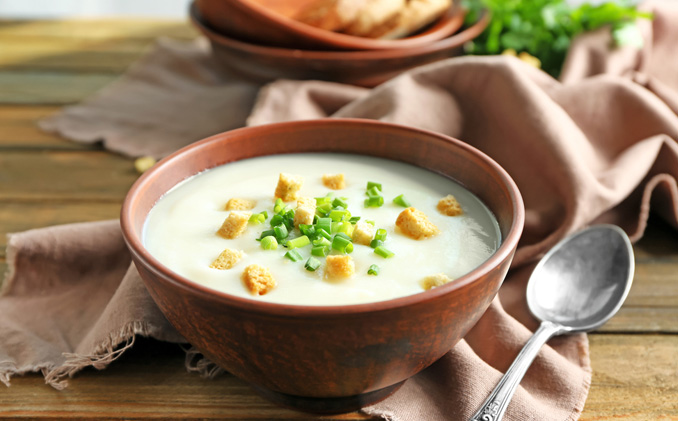 Ingredients (2 servings) : potatoes 700g, 2 onions (250g in total), 3 white mushrooms, butter 3T, milk 700mL, 1 cheese slice, salt, pepper
STEP 1. Peel the potatoes and onions and cut them into smaller pieces.
STEP 2. Thinly slice the white mushrooms.
STEP 3. Add butter into the saucepan, melt it, add the onions and white mushrooms and stir-fry them.
STEP 4. Once the onions become transparent, add the potatoes, milk and cheese slice, put the lid on,
and boil them for 20 minutes.
STEP 5. Once the potatoes are fully cooked, finely grind them with a hand grinder, and add salt.
The soft potato cream soup goes well with crisply baked croutons. This recipe is simpler than thought, give it a try!
French onion soup whose flavor spreads throughout the mouth
When the weather gets cold, your hands and feet will get cold, and your digestive functions will deteriorate naturally. Then, eat the onion soup that will boost the process of digestion. The sweet and fragrant onions meet the tasty cheese to create a fine dish.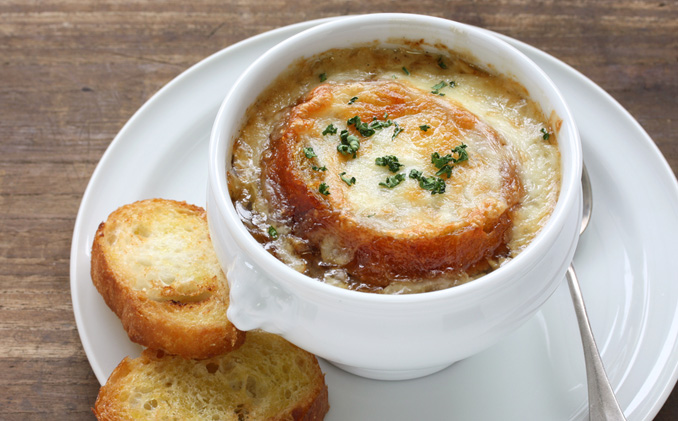 Ingredients (2 servings): 3 medium-sized onions, white wine 100mL, flour 30g, Emmental cheese 60g, water 1L, chicken stock, butter 20g, salt, pepper, baguette
STEP 1. Peel the onions and julienne them as thinly as possible.
STEP 2. Add the butter into the heated saucepan, melt it, add in onions and
stir-fry them over medium-high heat.
STEP 3. Once the onions turn brown, reduce the heat, add 2T of mineral water, put the lid on,
and boil them down for 15 minutes.
STEP 4. After 15 minutes, add flour and roast it so that it doesn't get lumpy.
STEP 5. Pour 100ml of wine and boil them over high heat until the alcohol evaporates.
STEP 6. Add 1L of water, chicken stock, salt and pepper, and boil them.
STEP 7. Pour the well-cooked onion soup into a bowl, place a crisply baked baguette over it,
sprinkle cheese on it, and heat it in the oven preheated at 200°C for 5 minutes
to melt the cheese.
French onion soup offers a deep and rich flavor beyond imagination. Children who don't like vegetables will be surprised by the sweet taste of the onions. Enjoy some special dining with your family through savoring a bowl of warm French onion soup full of flavor.