The city of eternal spring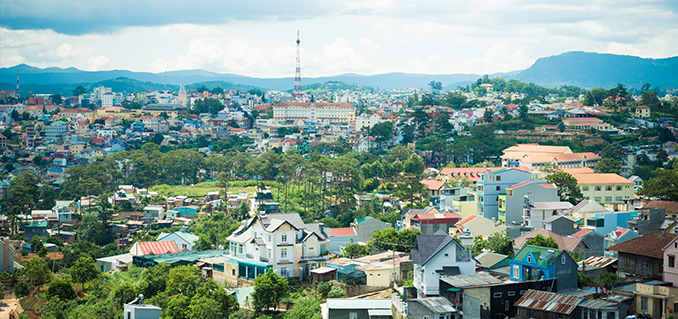 Due to its long geographical feature, Vietnam creates a different mood in each city as if all the cities are actually different countries. In particular, 'Ða Lat' is an extremely special city, located in Lâm Đồng Province, Vietnam.
Ða Lat is considered a tropical region in terms of latitude but has the typical spring weather of 15°C-24°C on average as it is located on the highlands, 1,500m above sea level. The city's temperature rarely goes above 30°C even in July – September when it's the hottest in Vietnam, which gives its fairy-tale nickname of 'the city of eternal spring'.
It is also an optimal region for agriculture as it has a mild climate and abundant rainfall year-round. The city is also overflowing with food, as people grow all kinds of crops such as strawberries, bell peppers, potatoes and cabbages on the terraced fields surrounding the city.
The city with a European touch

Ða Lat also has many features that are loved by travelers.
When Vietnam was a colony of France, many French people lived in Ða Lat. This is why many French buildings still remain in the city, making tourists feel as if they're in Europe. Ða Lat Railway Station is a typical example. The orange building has three sharp roofs and stained glass windows, creating a typical European mood. Now, only a tourist train is operated there, but it is still considered the most beautiful railway station in Vietnam.
Ða Lat Cathedral is one of the landmarks of Vietnam, with a statue of a rooster attached to the top, which got the nickname 'Rooster Church'. It is the oldest building left behind by the French among the buildings that remain in Ða Lat. 'Hang Nga Crazy House' is also a unique spectacle for tourists, which is about a 10-minute distance away from Ða Lat Cathedral. It's a hotel with such an odd exterior that you won't be able to tell whether it's a building or something else, unless you look at it closely.
If you want to go shopping, stop by traditional market such as Ða Lat Market. You can buy Vietnam's specialties like mulberry juice, artichoke tea, and dried fruits at reasonable prices. Don't miss the night market where you can enjoy the free spirit of Ða Lat along with signature Vietnamese dishes, various fruits and tea.
The city of lakes and waterfalls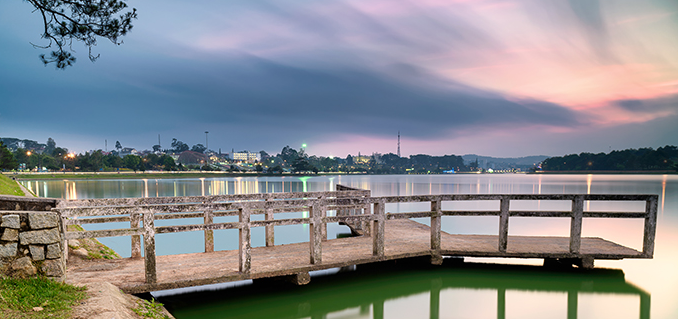 Europe in Asia – that marvelous view blends in so beautifully with nature. If you get out of the city just for a little bit, you'll experience refreshing view of nature. Small waterfalls surround the valleys in sweet-smelling pine forests. There's an enchanting myth behind each waterfall such as Cam Ly, Datanla and Pongour, so you can also heal yourself by taking a walk along the hidden stories of the waterfalls.
The lake formed on the highlands is also very impressive. Xuan Huong Lake, the most beautiful lake in Vietnam, is like a symbol of Ða Lat. You can ride on a boat or canoe, and play golf while enjoying the wonderful view of the lake.

Ða Lat is a harmonization of Asia's natural landscape and Europe's architectural design, with even the constantly warm and bright springtime weather that feels like a gift from God. If you want to give yourself a memorable gift, set out on a journey to Ða Lat, the city of eternal spring!