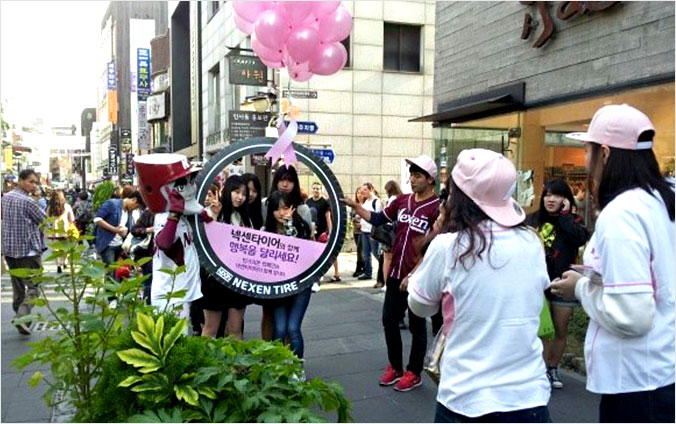 NEXEN TIRE is proud to support the Pink Ribbon Campaign, a global public campaign promoted worldwide every October to raise awareness of breast cancer in a bid to spur the earlier detection of breast cancer. This year is the fourth year running that NEXEN TIRE has supported the event, with a campaign featuring a range of programs designed to raise awareness of breast cancer.

Pink Art Exhibition titled We're Stronger Together was held at Ara Art Center, Insa-dong from October 16 through 18. With many artists taking part, the Art Exhibition delivered a message of hope through real stories of those who have fully recovered from breast cancer.
NEXEN TIRE prepared a rest area made from tires at the exhibition to engage the audience. This uniquely designed rest area equipped with chairs and tables made of tires drew in people to the event and spurred their interest in the campaign message.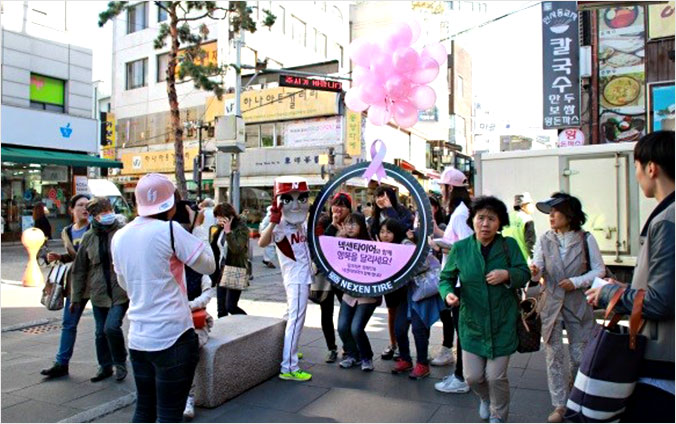 Plus, a photo-taking event with Teokdori (Mr. Jaw in Korean), Korean professional baseball team, Nexen Heroes mascot, was paraded near Insa-dong in Seoul. At the event, where people were able to take a Polaroid picture with a tire-shaped photo frame in their hands, more people took part than when it was held at Cheonggye Plaza last year.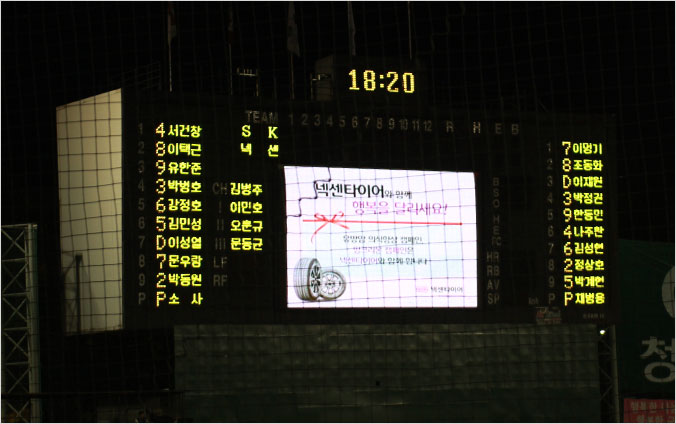 Moreover, NEXEN TIRE drew an enthusiastic response from the public for an event carried through NEXEN TIRE's official Facebook page to encourage participation in the Pink Ribbon Campaign and introduced the Pink Ribbon Campaign to fans of Nexen Heroes at Mokdong Baseball Stadium.
NEXEN TIRE presented an endowment to the Korean Breast Cancer Society for the first time this year!
We plan to continue our support of the Pink Ribbon Campaign to help more people recognize the importance of breast cancer prevention and the meaning and value of women's health. We ask for your encouragement and participation in the CSR (Corporate Social Responsibility) programs of NEXEN TIRE!