•Melbourne City FC has signed a multi-year partnership with Korean tyre giant
•NEXEN TYRE logo to feature on the training kit for the Hyundai A-League 2017 Finals Series
•NEXEN TYRE will feature on the men's away kit sleeve from 2017/18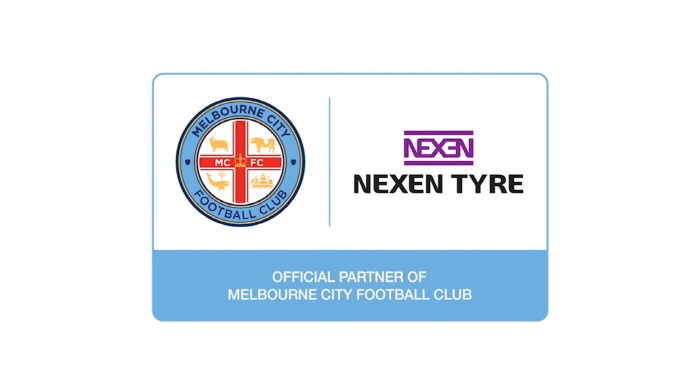 Melbourne City FC has announced a brand new multi-year partnership with NEXEN TYRE, which will see the Korean company's logo appear on the Club's training kit leading into the 2017 Finals Series, and on the men's away kit sleeves from the start of the 2017/18 season.
The partnership extends to Melbourne City's Women's team, providing NEXEN TYRE with match day benefits including signage at the team's home ground at CB Smith Reserve and at AAMI Park, alongside player appearances and ticketing opportunities.
Melbourne City's A-League team wore the NEXEN TYRE logo on its training kit for the first time during a 'NEXEN TYRE Challenge' on Wednesday 5 April during which A-League players, including Tim Cahill and captain Bruno Fornaroli, made creative use of the world-class tyres during a training session.
Melbourne City are the second club in the City Football Group to partner with the Korean tyre giant, after sister-club Manchester City announced a partnership extension on March 17 this year.
NEXEN will be Manchester City's Official Sleeve Partner for 2017/18, making City the first Premier League team to take advantage of the new sleeve-branding asset. The partnership extension also includes FA Women's Super League and League Cup winners Manchester City Women.
Melbourne City FC CEO Scott Munn said: "We are delighted to welcome NEXEN TYRE, a dynamic and growing global organisation, as a major partner for Melbourne City.
"This partnership will bring significant benefits to our men's and women's teams, and an opportunity to create exciting content for our fans. NEXEN have enjoyed a successful relationship with our sister-club Manchester City since 2015, and we look forward to the development of this brand-new partnership here in Australia"
Managing Director of Global Marketing Division for NEXEN TYRE, Jang-Hwan Lee, commented: "We are excited to serve as the official partner for Melbourne City Football Club, one of the fastest growing football clubs. It gives us the unique opportunity to reach out to the numerous football fans in the Oceania region, a part of the world which we deem very important to our business.
"At NEXEN TYRE, we continue to strive to expand our brand globally and sports marketing partnerships with leading sports club like Melbourne City Football Club is a great stepping stone in those efforts."
About Melbourne City Football Club
Melbourne City Football Club competes in the major Australian domestic competition, the Hyundai A-League and the Foxtel National Youth League. The Club, formerly known as Melbourne Heart FC was established in 2009, inspired by a vision for a broad-based community team, celebrating cultural diversity and sporting passion through football.
Becoming known as Melbourne City FC in 2014, the Club is wholly owned by City Football Group (CFG) and plays its home games at the 30,000 capacity AAMI Park stadium in Melbourne, where the Club celebrated its first ever men's silverware, the FFA Cup, in November 2016. Managed by Michael Valkanis, the Club's training and administrative base is at City Football Academy, Melbourne on the campus of La Trobe University. CFA Melbourne features advanced new training pitches for the Melbourne City first team, two elite women's and youth team pitches, dedicated community pitches, world class medical and sports science facilities and expansive office space. It is also CFG's centre for football operations in the Asia Pacific region and the training and administration base for the affiliated Women's team, Melbourne City Women's FC which was founded in 2015 and competes in the W-League, the top division of women's football in Australia.
About Melbourne City Women
Melbourne City FC commenced its inaugural Westfield W-League campaign in October 2015, after Football Federation Australia confirmed the Club's application for entry into the women's domestic competition in May 2015. In their inaugural season, the team had a 100 per cent record, winning 12 consecutive league matches and clinching the Premier's Plate and securing an historic double, winning the 2016 Grand Final. In 2017, they made history again when they won the Grand Final for a second consecutive year.
The W-League team is based at the W-League wing of the City Football Academy Melbourne, which was launched in November 2016.