It won five Korean Good Design Awards & two U.S. Good Design Awards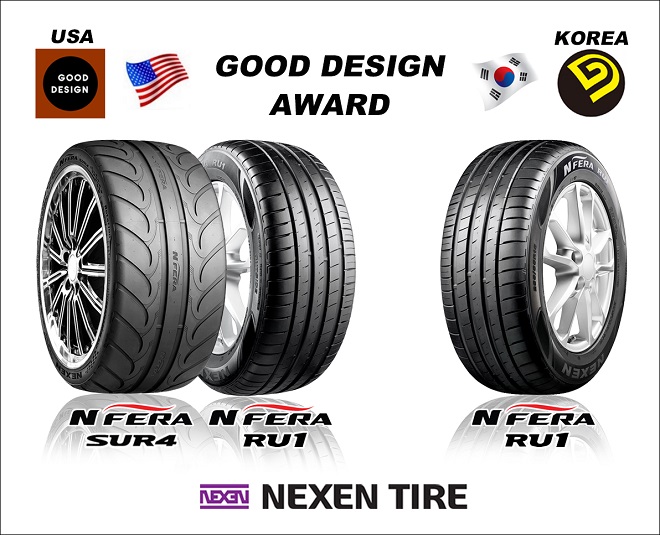 NEXEN TIRE announced that seven of its products have won Good Design Awards in Korea and the U.S.
'2016 Korean Good Design Award' - sponsored by the Ministry of Trade, Industry and Energy of Korea and hosted by the Korean Institute of Design Promotion – have named 'NFERA RU 1' for the Gold Award and four other products 'NFERA HD PLUS, NFERA SU1, N FERA AU5 and WINGUARD SNOW G WH2' for the main prize.
In '2016 US Good Design Award' - design awards program that is organized annually by The Chicago Athenaeum Museum of Architecture and Design (Illinois) in cooperation with the European Center for Architecture, Art, Design and Urban Studies - NEXEN TIRE's 'NFERA RU1' and 'NFERA SRU 4' have won the award in transportation category.
NEXEN TIRE's products have gloriously won 16 awards in 2016, receiving various design awards in the U.S., Europe and Asia, such as Italy's 'A Design Award', the U.S.'s 'Green Good Design Award, Japan's 'Good Design Award', Germany's 'Red Dot Award Design' and Korea's 'PIN UP Concept Design Award' as well as the abovementioned Korean and the U.S. Good Design Award.
"Our recently launched products such as NFERA, Roadian and Winguard series are being acknowledged for their high quality as well as for their unique designs," said Kyoung Woo Cheon, NEXEN TIRE Vice President and R&D Director. "We will continue to improve our product competitiveness in the global market through continuous R&D investment and improve our brand awareness in a global market."