● NEXEN TIRE Accelerates its Global Business Network Expansion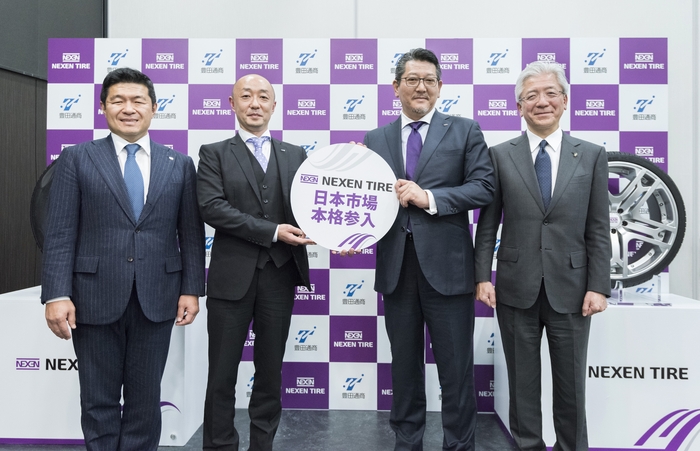 NEXEN TIRE held an inauguration ceremony for its NEXEN TIRE Japan Inc. - a joint venture with Toyota Tsusho Corporation.
The ceremony took place in Tokyo, Japan with CEO of NEXEN TIRE, Travis Kang, and Ichiro Kashitani, Automotive Division Chief Officer of Toyota Tsusho Corp and other relevant parties.
The two companies' discussion about synergy-deriving cooperation began in June 2015, which progressed into signing of the shareholders' agreement to establish a joint venture, NEXEN TIRE Japan Inc.
Toyota Tsusho Corporation, the trading arm of Japan's Toyota Group, mainly exports automobiles and automotive parts, but is also actively involved in a range of businesses including metals, chemicals and electronics. Established in 1948, Toyota Tsusho Corporation is one of the Top 5 Japanese trading companies, earning JPY 67 billion (USD 591 million) in FY 2015 with six operating divisions and over 150 offices as well as 900 subsidiaries and affiliates worldwide.
With NEXEN TIRE holding 51% and Toyota Tsusho holding the remaining 49% of the shares, NEXEN TIRE Japan Inc. begins its sales of NEXEN TIRE's products this month. With local management within the organization, NEXEN TIRE Japan will customize its business operation to strengthen its RE business in the market and also reinforce OE supply to Japanese automobile manufacturers carrying on diverse marketing activities.
With the leverage of Toyota Tsusho's brand awareness and distribution network, NEXEN TIRE aims to expand its business hence bolster NEXEN TIRE's brand awareness and boost its sales within Japanese market.
NEXEN TIRE has been providing its OE to global automobile manufacturers such as Porsche, Volkswagen, Renault and Fiat Chrysler Automobiles and is actively carrying on various activities for its diverse marketing. It is closely communicating with the customers through operation of social media - such as Facebook, Youtube and blog, providing a lot of interesting and useful information. NEXEN TIRE is also establishing world-wide brand awareness through diverse marketing activities including official partnership with the United States drifting series Formula Drift and the English Premier League's Manchester City Football Club, as well as sponsorship of Czech Republic's Premier Ice Hockey League's BK MladaBoleslav.


From Left: Travis Kang (CEO of NEXEN TIRE), Daisuke Kudo (Vice President of NEXEN TIRE Japan Inc.), Ryu Nishimura (CEO of NEXEN TIRE Japan Inc.), Ichiro Kashitani (Automotive Division Chief Officer of Toyota Tsusho Corp.)