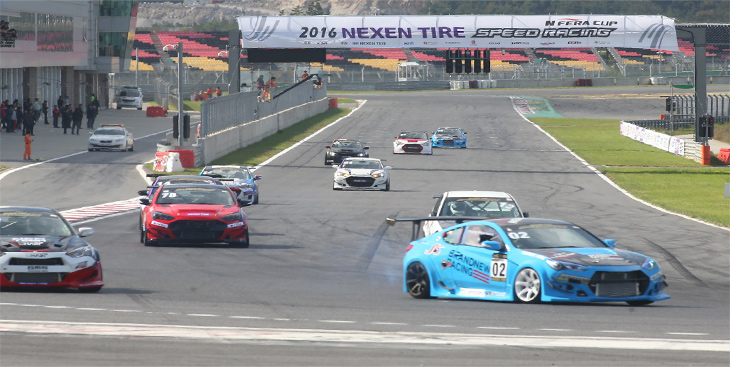 NEXEN TIRE speed racing, an exciting event with NEXEN TIRE as the title sponsor, is the nation's largest racing competition. It was launched in 2012 as the passenger car section of NEXEN TIRE RV Championship, Korea's first and largest RV & SUV racing competition, which itself dates back to 2008.
NEXEN TIRE Speed Racing is unstinting in its effort to widen the foothold of Korea motor sports, delievering the festive place for every one with a wide range of events as well as races.
If you wish to find out about the class formation and schedule, check the official website of Speed Racing. You can view all kinds of information such as racing images, videos and competition programs.
Gallery
Close

Close

Close

Close

Close

Close

Close

Close

Close

Close

Close

Close

Close

Close

Close

Close

Close

Close

Close

Close

Close

Close

Close

Close

Close

Close

Close

Close

Close

Close

Close

Close

Close

Close

Close

Close

Close

Close

Close

Close

Close

Close

Close

Close

Close

Close

Close

Close

Close

Close

Close

Close

Close

Close

Close

Close

Close

Close

Close

Close

Close

Close

Close

Close

Close

Close

Close

Close

Close

Close

Close

Close

Close

Close

Close

Close

Close

Close

Close

Close

Close

Close

Close

Close

Close

Close

Close

Close

Close

Close

Close

Close

Close

Close

Close

Close

Close

Close

Close

Close

Close

Close

Close

Close

Close

Close

Close

Close

Close

Close

Close

Close

Close

Close

Close

Close

Close

Close

Close

Close

Close

Close

Close

Close

Close

Close

Close

Close

Close

Close

Close

Close

Close

Close

Close

Close

Close

Close

Close

Close

Close

Close

Close

Close

Close

Close

Close

Close

Close

Close

Close

Close

Close

Close

Close

Close

Close

Close

Close

Close

Close

Close

Close

Close

Close

Close

Close

Close

Close

Close

Close

Close

Close

Close

Close

Close

Close

Close

Close

Close

Close

Close

Close

Close

Close

Close

Close

Close

Close

Close

Close

Close

Close

Close

Close

Close

Close

Close

Close

Close

Close

Close

Close

Close

Close

Close

Close

Close

Close

Close

Close

Close

Close

Close

Close

Close

Close

Close

Close

Close

Close

Close

Close

Close

Close

Close

Close

Close

Close

Close

Close

Close

Close

Close

Close

Close

Close

Close

Close

Close

Close

Close

Close

Close

Close

Close

Close

Close

Close

Close

Close

Close

Close

Close

Close

Close

Close

Close

Close

Close

Close

Close

Close

Close

Close

Close

Close

Close

Close

Close

Close

Close

Close

Close

Close

Close

Close

Close

Close

Close

Close

Close

Close

Close

Close

Close

Close

Close

Close

Close

Close

Close

Close

Close

Close

Close

Close

Close

Close

Close

Close

Close

Close

Close

Close

Close

Close

Close

Close

Close

Close

Close

Close

Close

Close

Close

Close

Close

Close

Close

Close

Close

Close

Close

Close

Close

Close

Close

Close

Close

Close

Close

Close

Close

Close

Close

Close

Close

Close

Close

Close

Close

Close

Close

Close

Close

Close

Close

Close

Close

Close

Close

Close

Close

Close

Close

Close

Close

Close

Close

Close

Close

Close

Close

Close

Close

Close

Close

Close

Close

Close

Close

Close

Close

Close

Close

Close

Close

Close

Close

Close

Close

Close

Close

Close

Close

Close

Close

Close

Close

Close

Close

Close

Close

Close

Close

Close

Close

Close

Close

Close

Close

Close

Close

Close

Close

Close

Close

Close

Close

Close

Close

Close

Close

Close

Close

Close

Close

Close