Nexen Tire, with its superior performance and beautiful design participated in many exhibitions around the world in effort to promote its excellence. Let's take a look at Nexen Tire performed in exhibitions around the world in 2015.
Auto Shanghai 2015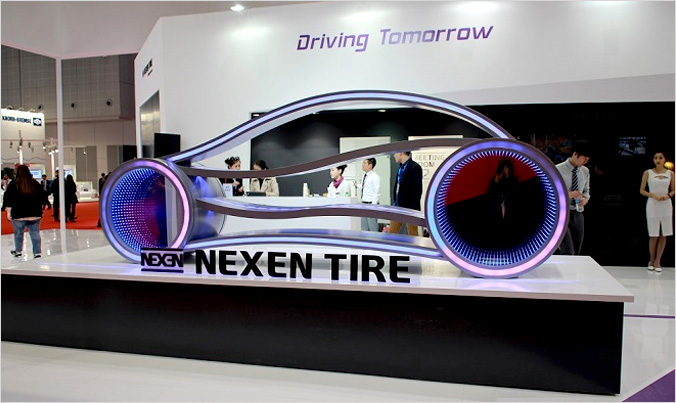 Nexen Tire participated in Auto Shanghai 2015, China's largest automobile and parts exhibition held in Shanghai from April 20 to 29. Since first being held in 1985, Auto Shanghai has emerged as one of the largest exhibitions in Asia, and one of the two most popular motor shows in China along with Beijing Motor Show.
Nexen Tire designed its booth with the concept of future-oriented 'High-tech Lab', and exhibited new products, including ROADIAN CT8 and WINGUARD WT1, in four different zones of PCR, SUV, Winter and OE & Concept.
In particular, the Concept Zone offered four concepts of 'S.E.E.K (Safety, Emotion, Ecology and Keen)', exhibiting tires, including environment-friendly tires made of vegetable oil and NFS (Noise Free System)-applied tires. Along the side of the booth, Nexen Tire also introduced visitors to its OE supply, and cutting-edge automation and environment-friendly plants to allow them to gain better understanding of the compelling strengths of Nexen.
During the exhibition, Nexen Tire invited Chinese media and dealers to a showcase of new products, including Roadian CT8 and WinGuard WT1, and also held various other events to attract visitors, including K-pop dance performance by racing girls, photo time, a Nexen Tire quiz show using a stage screen, costume performances and X-player events.
Nexen Tire has been operating its plant in Qingdao since 2008, and has expanded its sales in China including OE supply to automakers in China. With the participation in Auto Shanghai 2015, we expect our brand awareness will be further improved in China.
Autopromotec 2015 in Italy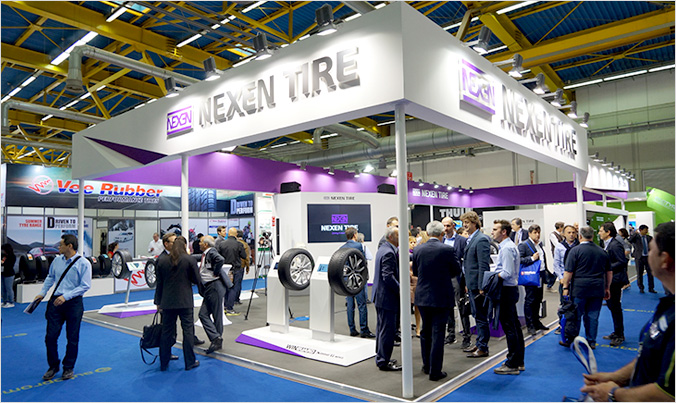 Nexen Tire participated in Autopromotec 2015 held in Italy from May 20 to 24. As one of the largest exhibitions in Italy, Autopromotec 2015 is a biannual event held at the Bologna Trade Fair Center, where you can encounter many auto parts and machines and after-market products.
First held in 1964, the exhibition is now marking its 26th year as a large exhibition event; last year, it was participated by 1,587 companies from 47 countries. In this exhibition, Nexen Tire operated a booth with a concept of <High-tech Lab> under the theme of 'The Best Technology and Products for Tomorrow', showcasing 12 different products, including new WINGUARD Snow G WH2, N'priz 4S, and WINGAURD WT1.
During the exhibition, Nexen Tire also invited local dealers and media in Italy to a showcase of its new WinGuard WH2. By participating in this exhibition, Nexen Tire was able to demonstrate the superior quality and technology of its products, and gain a great opportunity to strengthen its position in Europe.
Nexen Tire is truly active both at home and abroad. Never satisfied with the status quo, Nexen Tire will continue with endeavors to deliver better quality and technology to be highly valued by global customers.