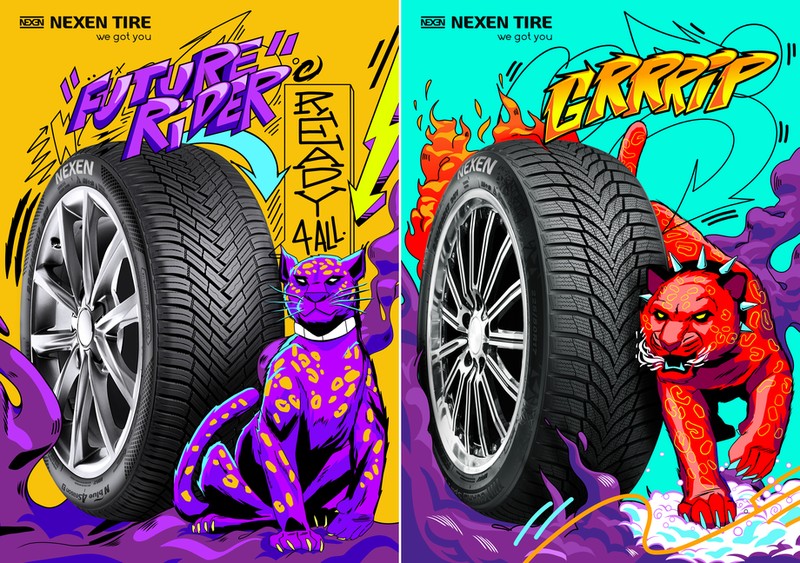 NEXEN TIRE, a global tyre manufacturer, today unveiled its campaign imagery developed in collaboration with Haitian-American artist Kervin Brisseaux.
At the heart of NEXEN TIRE's latest brand development is the slogan "We got you", which encompasses the three pillars of the brand: trendy, innovative and caring. NEXEN TIRE is setting an important milestone to establish itself as a trendy and innovative brand in the European market. To this end, NEXEN TIRE is working closely with an artist whose illustration style includes influences from fashion, music and other facets of pop culture.
This new campaign featured two pieces of creative artwork that represent the brand's unique selling proposition. NEXEN TIRE worked hand in hand with renowned creative agency Saint Elmo's, known for their extensive expertise in brand, design, campaigns and content creation, to communicate the message clearly and effectively while making the artwork as engaging as possible.
In the campaign images, the animals show self-confidence and pride, while the background colours represent the brand elements of NEXEN TIRE and its seasonal environment. The messages on the brand visual "future rider, ready for all" convey NEXEN TIRE's self-image as an innovative brand that pushes boundaries. "Working with NEXEN TIRE has been an incredible experience. We share a common vision of creating campaigns that are forward-thinking and innovative, and it was a pleasure to bring Kervin Brisseaux's artistic genius to the fore," says Stefan Schütte, CCO of Saint Elmo's.
"We believe this collaboration with Kervin Brisseaux and Saint Elmo's will take NEXEN TIRE to new heights and position our brand in the minds of consumers as trendy and premium," said DC Kim, Vice President of Europe Sales & Marketing of NEXEN TIRE Europe, sharing his excitement. "NEXEN TIRE is bold to be different and is taking the lead in this new journey. By using compelling imagery and engaging people in discussions, we aim to stand out from the crowd and introduce NEXEN TIRE and its products to a wider audience in an extraordinary way."