- Nexen Shares Important Tire Features That Can Make or Break an Off-Road Adventure -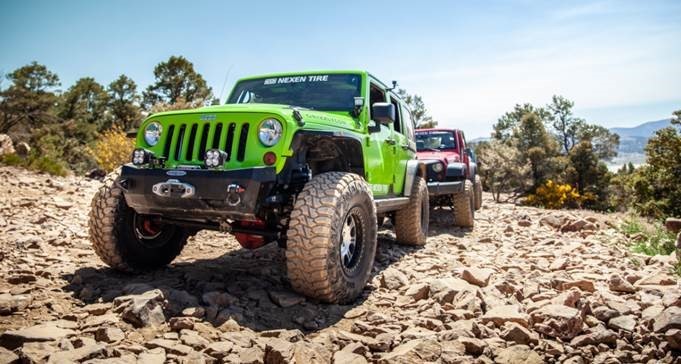 As the nation continues to weather the second wave of the COVID-19 pandemic, Americans are still being encouraged to practice social distancing whenever possible – and that doesn't mean just staying indoors. More than 25M Americans, which includes millions of off-road enthusiasts, embarked on summer road trips, family vacations and off-road adventures and tires are a critical component of these activities. For the off-road crowd, well-performing tires are a must and they should have all the right features needed to handle any terrain. But what features are needed to make a great, high-performance off-road tire? Nexen Tire America, Inc., is here to answer that question.
What Actually Makes a Great Off-Road Tire?
The short answer is, not all tires are created equally. Most off-road tires can carry a vehicle over tough terrains, such as rocks, dirt, sand, mud, snow and other uneven surfaces. Off-road tires must be strong enough to handle the abuse, wear and tear and potential hazards associated with off-roading, in addition to providing solid traction, sturdy control and long-lasting construction. These are some of the traits that Nexen Tire recommends all high-performance off-road tires feature.
·
Appearance
– A good off-road tire features unmistakable, aggressive styling that's second to none
·
Burly lugs
– Big treadwear blocks create a wider footprint, providing maximum grip and aggressive traction in off-road situations
·
F-Load weight rating
– Off-road tires designed to be driven on the street can also aid in towing when fully aired up
·
Multi-side ply construction
– Heavy-duty construction provides a more durable and longer-lasting off-road tire
·
Rubber compound
– Flexible rubber provides adequate performance on all surfaces
For off-road enthusiasts who demand those features, and affordability, look no further than Nexen Tire's Roadian MTX Xtreme Off-Road tire, the company's premiere mud-terrain tire. The Roadian MTX has quickly turned into the preferred choice by many off-road enthusiasts thanks to its capable dual-sidewall design, premium performance and competitive price point. The Roadian MTX also offers several other benefits enthusiasts should consider.
·
Sizing
: Roadian MTX is available in more than 35 different sizes, ranging from 33- to 37-inches and for wheel sizes from 15- to 22-inches.
·
Performance
: Off-road traction is front-and-center with the Roadian MTX thanks to a three-ply design and an F-load weight rating capable of heavy hauling. Roadian MTX also has exceptional low air-pressure capacity which is critical for extreme rock-crawling and other off-road situations. The load-bearing tread-pattern from the top of the tire over the sidewall provides strong, even gripping-power.
·
Design
: While many off-road tire options on the market look similar in appearance, the Roadian MTX differentiates itself with a dual-sidewall design – Beast and Machine – enabling off-road enthusiasts to choose a pattern that resonates with them.
·
Practicality
: The Roadian MTX also prioritizes comfort- and braking-capabilities – something not all off-road tires can claim – thanks to a patented tread-block design which minimizes road noise when transitioning from off-road surfaces to on-road ones.
Drivers who want to purchase a set of Roadian MTX Xtreme Off-Road tires can utilize Nexen Tire's online Tire Finder tool which helps drivers find the right tires for their vehicle. Vehicle owners can enter the year, make, model and style of their vehicle and the results generated are based on OEM specifications. Off-road enthusiasts can also view specific tire sizes by selecting the width, tire ratio and rim size.
The Roadian MTX is also offered Nexen's 45-Day Satisfaction Guarantee Trial Warranty, allowing customers to try Nexen's most capable off-road tire for a period of 45-days or 500-miles (whichever comes first). Nexen also boasts an impeccable record of zero recalls since being in business, so customers can off-road with peace of mind!
"When designing the Roadian MTX, we took the best elements of current mud-terrain tires and combined them with the needs of our customers to create a premium yet cost-effective off-road tire at an affordable price," said John Hagan, executive vice president of sales for Nexen Tire America, Inc. "Fast forward three years later, and the Roadian MTX has quickly become the preferred tier-one tire option for off-road enthusiasts around the world. It's no surprise our most capable mud-terrain tire has gained such popularity in such little time, and it's all thanks to our dealers and our customers for truly getting out there and tackling any terrain they throw at them."
Off-road social distancing requires the right tires.
Nexen shares important tire features that can make or break an off-road adventure.
Lets find out more at