- Nexen Tire starts its TV commercial across 54 European countries
- The company expects to improve their corporate image and increase brand awareness with the Eurosport TV commercial
- The company plans to strengthen its marketing activities by actively utilizing their sponsorship of Manchester City FC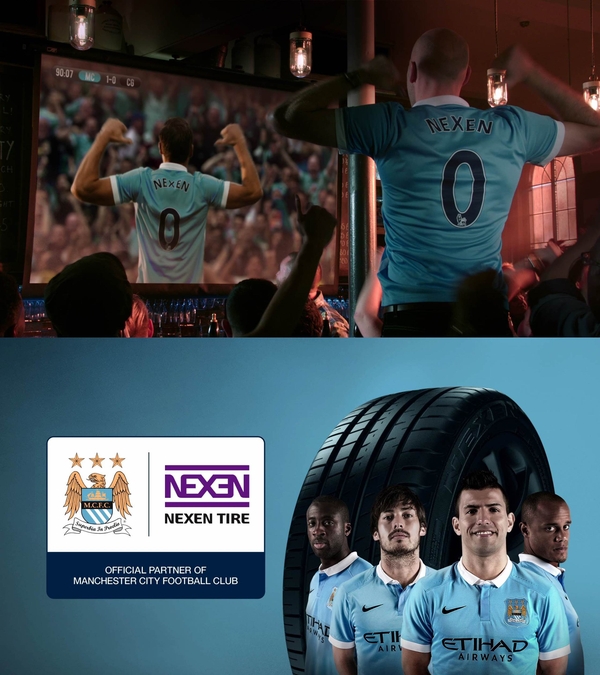 Seoul, South Korea, November 30, 2015 – Nexen Tire announces the launch of its first TV commercial across Europe through Eurosport, Europe's No.1 sports channel, in order to strengthen its presence in the European market.
The 30-second commercial will air across 54 European countries for 6 months, from December 2015 to May 2016 via Eurosport, which includes Eurosport 1, Eurosport 2, and Eurosport 2 NEE.
"By launching the Eurosport TV commercial, which was produced to celebrate the partnership with Manchester City FC, a leading football club in the Barclays Premier League, we are expecting to take great strides in improving the corporate image and increasing brand awareness in the European market," said Nexen Tire. "We will continue to bolster our marketing activities in Europe in an effort to reach more European customers and raise our brand value in these markets."
*Nexen Tire Eurosports TVC: http://bit.ly/1NX89uN
The commercial personifies Nexen Tire as a Manchester City FC player scoring in a game to represent the company's performance-driven technology and dynamic corporate image. The commercial also reflects the company's premium positioning by featuring alongside Manchester City FC. Furthermore, it was unusual for Manchester city FC to have genuine fan club members participating in a commercial shoot. The behind the scenes of the commercial are scheduled to be released in December.
Nexen Tire, as the official partner of Manchester City FC, has been implementing various marketing initiatives utilizing their sponsorship rights. In addition, the company is planning to further strengthen its marketing activity to enhance brand awareness in the European market.
Meanwhile, Nexen Tire has been strengthening its global presence with a focus on the European market in various ways. The company signed an official sponsorship with Manchester City Football Club in August 2015. Also, in October 2015, the company started the construction of a new tire manufacturing plant in the Czech Republic, which will feature the most advanced automation systems along with environmentally friendly technologies. Commercial operation is planned to commence in 2018.