- N'blue 4Season ranked sixth in the All-Season Tire Test
- WINGUARD sport 2 ranked tenth out of 50 tires tested in Winter Tire Test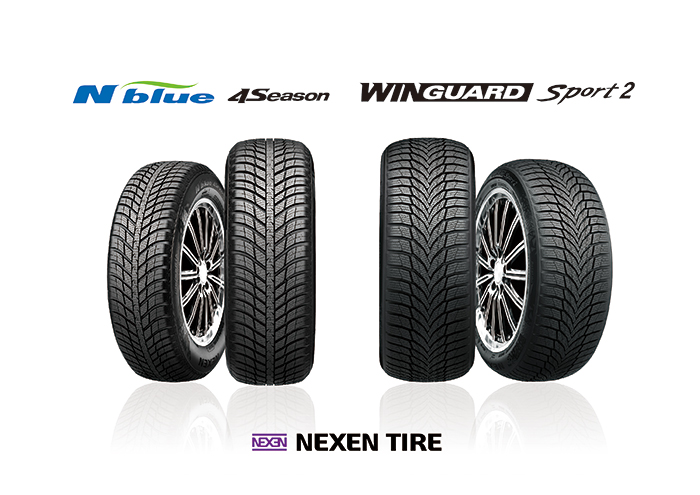 NEXEN TIRE announced that two of its tires, N'blue 4Season (205/55R16) and WINGUARD sport 2 (225/50R17), have performed successfully in All-Season and Winter tire tests, respectively, as conducted by Auto Bild, one of Germany's most prestigious automobile magazines.
Winter Handling and Slalom are two most important elements in assessing All-Season tires. Considering the excellent results N'blue 4Season received in these categories, and its good price value, NEXEN TIRE's N'blue 4Season ranked sixth overall amongst 25 global tires brands available in Europe, receiving an overall 'Satisfactory' rating in the evaluation.
Auto Bild also announced the results of its Winter Tire Test on October 6, in which NEXEN TIRE's WINGUARD sport 2 ranked tenth overall out of 50 products tested. WINGUARD sport 2 received positive reviews in numerous assessment categories including Noise, Ride Comfort, Best Mileage and Snow and Wet Braking, Traction and Handling Balance category, receiving an overall evaluation of 'Good.' With its strong balance of qualities and excellent mileage, WINGUARD sport 2 also received the 'Eco-Meister 2017' label.
"The results from Auto Bild's testing are very encouraging, as they validate our efforts to develop and produce high-performing tires for consumers around the world," said NEXEN TIRE. "Our tires have been recognized in the European market for their excellence, and we will continue to further strengthen our product quality and competitiveness."