The NEXEN TIRE will exhibit its products once again at Autopromotec 2017, the world's leading automotive equipment and aftermarket products fair

NEXEN TIRE strives to increase the company's brand reliability based on advanced technology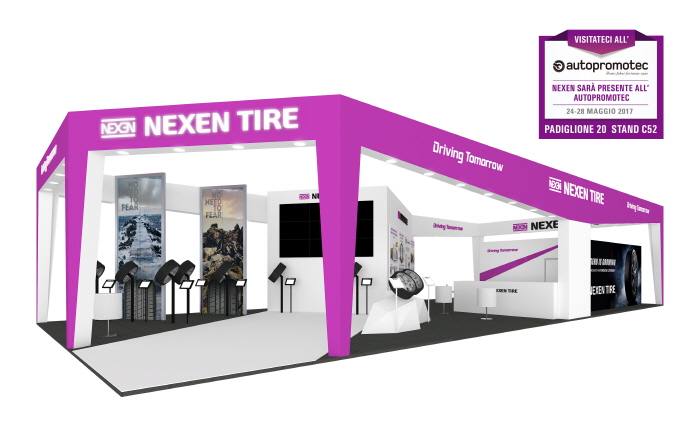 NEXEN TIRE, a leading global tire manufacturer, is pleased to announce that the company will exhibit its products at Autopromotec 2017 in Bologna, Italy from May 24th to 28th.
Autopromotec is one of the top three Europe's leading automotive equipment and aftermarket products fair which has been held biennially to demonstrate innovations, developments and trends in the tire, car equipment and spare parts industry. In 2015, 1,587 exhibitors and 103,989 visitors from 50 different countries have attended the exhibition.
NEXEN TIRE's exhibition will represent the company's aggressive and energetic brand image, with showcase a total of 10 tire products. One of the highlights will be the introduction of latest winter tire Winguard Sport2 and the new allseason pattern N´Blue 4 Season. The new winter tires will be available next winter season 2017 /2018 in 25 start dimensions.
Further information on latest winter pattern will be announced during the product launch, planned for Thursday 25th 11:00 am – 2:00 pm and the visitors will have opportunity to get further information about the new products.
"NEXEN TIRE is pleased to take part in Autopromotec, one of the world's leading tire fair. We will continue to highlight NEXEN TIRE's outstanding products and performance-driven technology worldwide." said NEXEN TIRE Italy's Branch Manager Mr. Han Yoon Seok. "We also hope to increase our brand reliability as well as brand awareness through the exhibition and various marketing events at Autopromotec 2017."
NEXEN TIRE supplies its OE tires to various global car manufacturers worldwide, including Chevrolet, Chrysler, FIAT, Hyundai, IVECO, Kia, Mitsubishi Motors, Porsche, Qoros, RAM, Renault, Renault Samsung Motors, SEAT, SKODA, Ssangyong Motors, Suzuki, and Volkswagen.