- NEXEN TIRE revamps their website to serve as a content hub and bolster its digital capability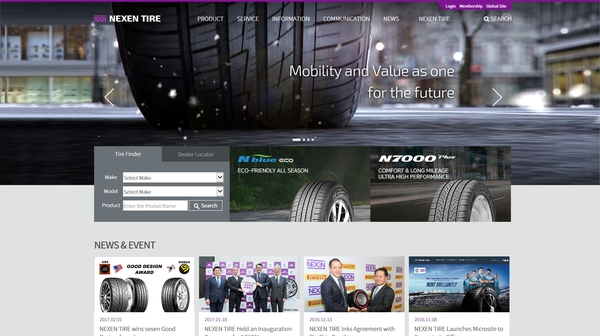 NEXEN TIRE, a leading global tire manufacturer, announced the launch of its redesigned global website today, designed with digital in mind foremost.
Through the renewed website, visitors can access a variety of information on NEXEN TIRE such as its products, services, information on tire in general, news & campaigns and corporate information in a more digital friendly way. Visitors across the globe also can enjoy NEXEN TIRE content that have been uploaded on Facebook, YouTube, or various blogs, and share content from the website with other social media platforms.
"The renewed website, serving as NEXEN TIRE's key digital marketing channel, delivers a wealth of content on the company's milestones in a more engaging way to connect with global customers," NEXEN TIRE stated.
In addition, the website allows customers to easily compare features between products through the new "Key Performance Indicator function" tab.
The website designed with responsive user interface is optimized for various digital devices such as PC, mobiles and tablet. Web accessibility has also been enhanced by search engine optimization, making it easier to navigate information.
"In a bid to get closer to customers through digital channels, we will continue to interact with them via social media channels and mailing services, as well as the corporate website."