A tire show was recently held in Essen, Germany where NEXEN TIRE was aggressively showcasing its products, technologies and design. It is known as 'Reifen 2016', a leading fair of the tire industry. Let's take a moment to look closer at the show.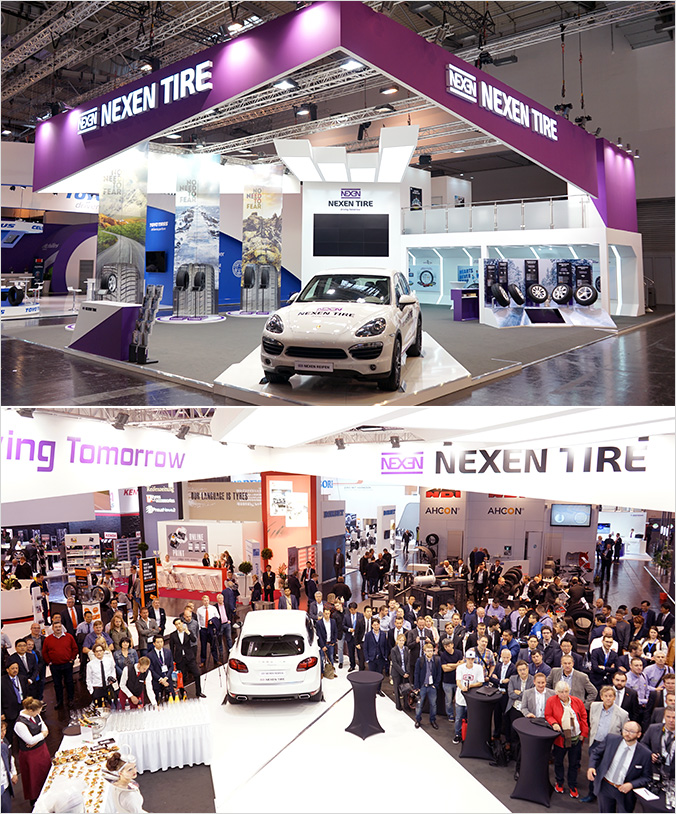 NEXEN TIRE participated in 'Reifen 2016', the tire show held in Essen, Germany, from May 24 to 27.
Reifen, which started in 1960 and has been held biennially since then, is Europe's largest fair of the tire industry including tires and tire parts, where you can see the innovation, development and trends of the tire industry. This year, it occupied about 60,000 square meters, with 675 exhibitors from 44 countries.
NEXEN TIRE divided its booth into four categories including New Products, PCR, SUV/LT and Winter, and presented a total of 10 tire products targeting the European market along with premium new products. On May 24, the first day of the fair, it had two separate briefing sessions each for local and international visitors including dealers and journalists, in order to present its new product, N'blue 4S.

Designed into a dynamic formative structure with a concept of its regular and symmetrical extension, the company's exhibition booth was built in a duplex format occupying about 260 square meters with separate space for product displays and buyer consulting. Also, it has paved the way to further improve its brand awareness in the European market by presenting the quality and technologies of NEXEN TIRE worldwide, leveraging the supply status of overseas automobile manufacturers, tests by renowned magazines and videos of factories with cutting-edge facilities.