- Company signs agreement with Seohan GP, Volgas Motorsports, and CJ Logistics Racing Team
- Additionally signs team title partnership with Volgas Motorsports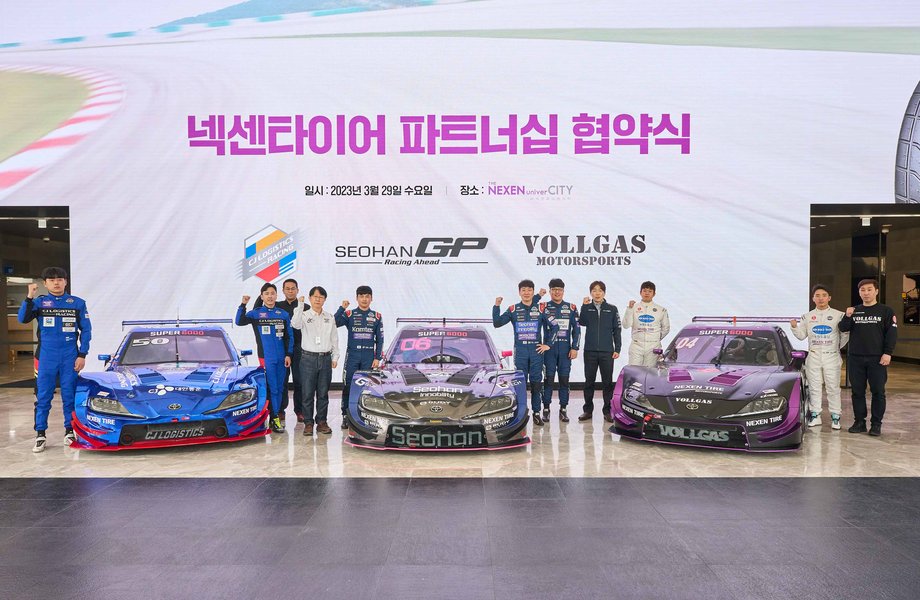 NEXEN TIRE, a leading global tire manufacturer, today announced that it held a tire partnership agreement ceremony with professional racing teams participating in the SUPER 6000 class of the 2023 CJ Korea Express Super Race Championship (SuperRace Championship) on March 29.
The tire partnership agreement ceremony was held at the NEXEN Central Research Institute's The NEXEN UNIVERCity in Seoul, attended by NEXEN TIRE President Hyun-jong Lee and racing teams of Seohan GP, Volgas Motorsports, and CJ Logistics
NEXEN TIRE will increase its supply of tires to professional racing teams by supplying racing tyres to Korea's top motorsports teams, Seohan GP, Volgas Motorsports, and CJ Logistics, which compete in the Super Race Championship SUPER 6000 class.
The Volgas Motorsports team, in particular, will not only be supplied with tires through partnerships, but will also sign a team title partnership and compete in the Super Race Championship as NEXEN-Volgas Motorsports for the 2023 season.
The N'FERA SS01 (DRY) is supplied by NEXEN TIRE is a slick racing tire that provides excellent road surface grip and braking power even in extreme driving conditions. The N'FERA SW01 (WET) is distinguished by stable handling performance and excellent drainage performance even in wet road driving conditions.
Based on the technology of racing-only tires participating in the Super Race Championship, NEXEN TIRE plans to actively use them for the R&D of new tire (OE) and replacement tire (RE).
Meanwhile, NEXEN-Volgas Motorsports, Seohan GP, and CJ Logistics racing teams using NEXEN tires can be seen during the 2023 Super Race Championship, which begins on April 22 and 23 at the Everland Speedway in Yongin.