- Tiremaker continues to discover and develop innovative ideas through domestic and international industry-academic collaborations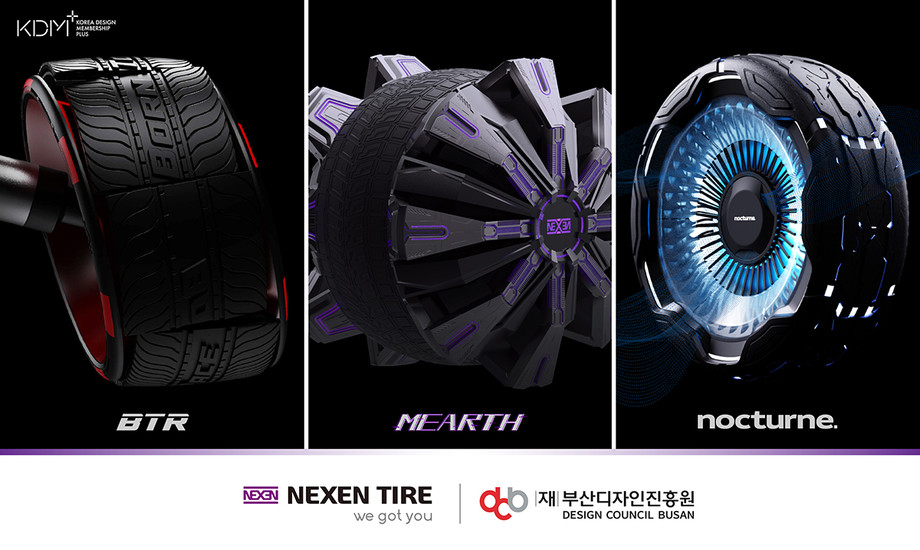 NEXEN TIRE, a leading global tire manufacturer, presented the BTR, Mearth, and Nocturne future concept tires developed in collaboration with the Design Council Busan (DCB) through an industry-academic collaboration.
The three future concept tires were created in collaboration with nine product design students from DCB of Korea Design Membership Plus (KDM+), a public design membership program that promotes design industries and societies while also fostering students as talents suitable for industrial field practice through various practical design education.
First, the "BTR," which stands for Born to Race, is a racing tire with a spherical internal structure that can freely adjust the camber angle according to the driving course while maintaining a stable ground area with individual tread patterns.
The "Mearth (Mars+Earth)" tire is a future transform tire designed for use on Mars that provides a mode to improve driving ability by expanding the tread area through special materials, as well as a mode to clear barren land on Mars through protruding sidewall structures.
Finally, the airless tire "Nocturne," which employs active noise cancelling technology, not only effectively mitigates tire noise during high-speed driving, but it can also operate when stopped, such as car camping and camping, to enjoy the best low noise environment around the vehicle.
NEXEN TIRE looks to continue discovering creative ideas through various industry-academic joint research projects, and to lead the future mobility industry trend with a distinct concept.
Meanwhile, NEXEN TIRE won the main award at the 2022 IDEA Design Awards last year for concept tires developed in collaboration with Korea Design Promotion Agency (KDM+) product design students.