- 'N'FERA Primus', an Ultra High Performance summer tire that boasts excellent drainage and optimal braking performance, wins in the Product category
- NEXEN TIRE products earned total 6 awards at iF Design Award since 2011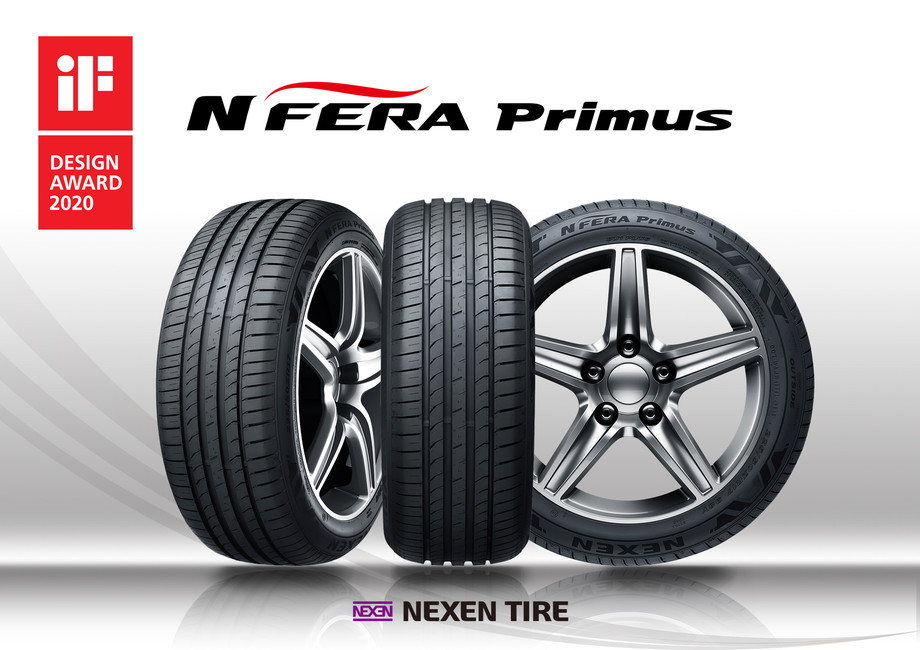 Premium tire manufacturer NEXEN TIRE announced today that its N'FERA Primus has been awarded in the Product category at the world-renowned iF Design Award 2020.
N'FERA Primus is a premium Ultra High Performance (UHP) summer tire that features outstanding wet and dry braking performance and advanced handling to present stable driving experience at a maximum speed of 300km/h.
N'FERA Primus ensures optimum driver safety with sophisticated groove pattern design. The 3+1 Wide Grooves deliver excellent water drainage to prevent hydroplaning even at high speeds. The 3D Lateral Grooves created by special 3D blocks engineering technology, complement the main grooves by providing reduced braking distance with enhanced block strength on any road condition.
NEXEN TIRE has also incorporated 3 Strong Tread Ribs to the tire's design for improved handling performance. The rib center blocks bring optimal strength balance to drivers, allowing better handling performance to maneuver the vehicle with increased stability.
To date, NEXEN TIRE products have won a total of six awards at the iF Design Awards since receiving the initial recognition for its nano special compound tire N8000 in 2011. The N'FERA series has been lauded in particular with three models attaining the prestigious honor: N'FERA SU1 in 2014, N'FERA AU7 in 2019, followed by N'FERA Primus this year.
"The accolade from iF Design Awards accredits NEXEN TIRE's design capability to present remarkable products for the global market," stated Kyung Woo Cheon, Executive Vice President of R&D at NEXEN TIRE. "We will continue to grow presence in the global arena with high-performing products and exceptional design through ceaseless R&D efforts."
Founded in 1953, the iF Design Award is one of the top three international design awards alongside the IDEA Design Award and Red Dot Design Award. The prestigious design award evaluates design entries for seven categories including Product, Packaging, Communication and Architecture.
The iF Design Award 2020 received total 7,298 entries from 56 countries for competition.