- Recognition thanks to industry's first tire rental service and continuous development of customer satisfaction program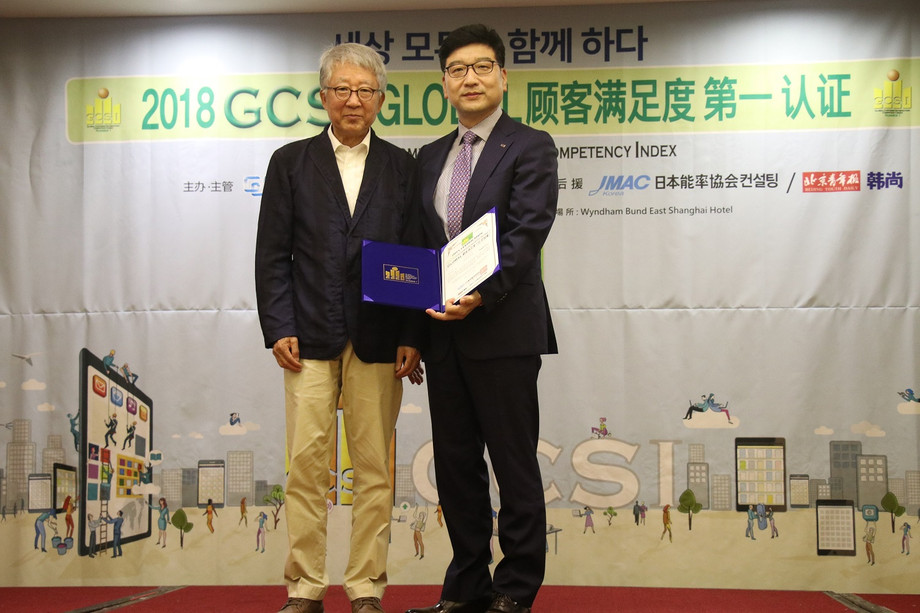 Photo: (From left) Soon-Hoon Bae of Global Management Association, Il-Hee Lee of NEXEN TIRE's Global Quality Management Department.
NEXEN TIRE, a global tire manufacturer, announced on 27th that it ranked first in the tire segment on South Korea's '2018 Global Customer Satisfaction Competency Index (GCSI)' for the ninth consecutive year.
The GCSI is an evaluation system developed and conducted by the Global Management Association, a research evaluation institution under South Korea's Ministry of Trade, Industry and Energy. It was established to raise awareness and improve customer satisfaction management by providing a global industrial competitiveness index.
This year's evaluation was conducted through an online survey that lasted for three weeks in April, centering around Seoul and six other metropolitan cities. The evaluation was carried out by 102,000 participants on categories such as elements of customer satisfaction, customer value, global competency and loyalty.
NEXEN TIRE is currently operating 'Next Level,' the industry's first tire rental service. The service provides regular tire check-ups and vehicle management in 10 main areas for all rental customers, and offers two free tire, or engine oil, replacements in case of product wear or damage for customers with four or more tire rentals.
To ensure safe-driving of its customers, the company runs 'New Premium Warranty System' as part of its premium customer satisfaction program for its high-end tires including N'FERA AU7, N'FERA AU5 and N'FERA RU5 by providing replacements even when the customer is at fault for the tire wear or damage.
NEXEN TIRE also offers free tire inspections each year at highway rest areas and vehicle inspection stations across the country to ensure safe driving of not only NEXEN TIRE customers but for all drivers. NEXEN TIRE is actively playing its role as a social enterprise by offering these services in cooperation social welfare institutions in marginalized areas.
Furthermore, the company is continually improving its product quality and satisfaction, ranking first in the 'All-Season Tire Test' conducted by 'ADAC Motorwelt,' a German automotive magazine that is highly influential in Europe.
NEXEN TIRE's technology is also recognized in the global market, with the company expanding its product supplies to global automakers such as Porsche, Volkswagen and RenaultFCA (Fiat Chrysler Automobiles) Group.
The certification ceremony for 2018 GCSI was held in Shanghai, China on June 21, in attendance of the winners from each segment.