•
Abu Dhabi strategic investment fund to make equity investment and explore opportunities.
• NEXEN TIRE to accelerate business expansion with new strategic partnership.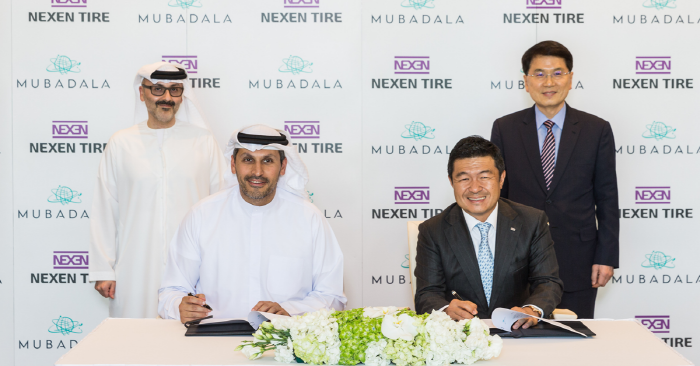 NEXEN TIRE, a leading global tire manufacturer and Mubadala Investment Company (Mubadala), the Abu Dhabi strategic investment fund, today signed a Memorandum of Understanding to explore strategic partnership opportunities. Mubadala has made a direct investment into Nexen as part of the agreement.
NEXEN TIRE is one of the fastest growing companies in the automotive industry, with a compounded annual growth rate of 15% over the past ten years. The company sells 40 million tires to more than 140 countries annually, with more than 4 million tires sold throughout the Middle East.
Khaldoon Khalifa Al Mubarak, Managing Director and Group CEO of Mubadala, and Travis Kang, CEO of NEXEN TIRE, signed the MOU in Abu Dhabi on July 19th.
Waleed Al Mokarrab Al Muhairi, Deputy Group CEO & Chief Executive Officer, Alternative Investments and Infrastructure, Mubadala said: "As a high performing business with significant global growth potential, NEXEN TIRE represents an interesting investment opportunity for Mubadala Investment Company. Our investment approach prioritizes partnership with best-in-class global organizations as a key driver of creating lasting value for our shareholder. We look forward to exploring opportunities with NEXEN TIRE."
Travis Kang, CEO of NEXEN TIRE, added: "This strategic partnership with Mubadala Investment Company is a significant milestone for NEXEN TIRE in our journey to becoming a global top 10 tire company by 2025. This collaboration will accelerate NEXEN TIRE's growth in international markets."
In addition to the equity investment, Mubadala and Nexen will explore a broader range of business initiatives, including potential further investment as well as wider cooperation in NEXEN TIRE's overseas expansion. The parties will also cooperate in other areas such as future automotive technology linked to the Fourth Industrial Revolution.
About Mubadala Investment Company
Mubadala is a pioneering global investor, deploying capital with integrity and ingenuity to accelerate economic growth for the long-term benefit of Abu Dhabi. As Abu Dhabi's leading strategic investment company, Mubadala is active in 13 sectors and more than 30 countries around the world, creating lasting value for our shareholder, the Government of Abu Dhabi.
Our work includes the development of global industrial champions in sectors such as aerospace, ICT, semiconductors, metals & mining and renewable energy, utilities, and the management of diverse financial holdings. We build on legacy expertise in oil and gas to invest across the hydrocarbon spectrum, and enhance the UAE's growth potential through investments in healthcare, real estate and defense services. Our investment approach prioritizes partnership with best-in-class organizations and a commitment to the highest standards of governance.