Al Saeedi Group hosts clients with MCFC Trophy Tour at Nexen Tire Brand Shop in Jebel Ali, U.A.E.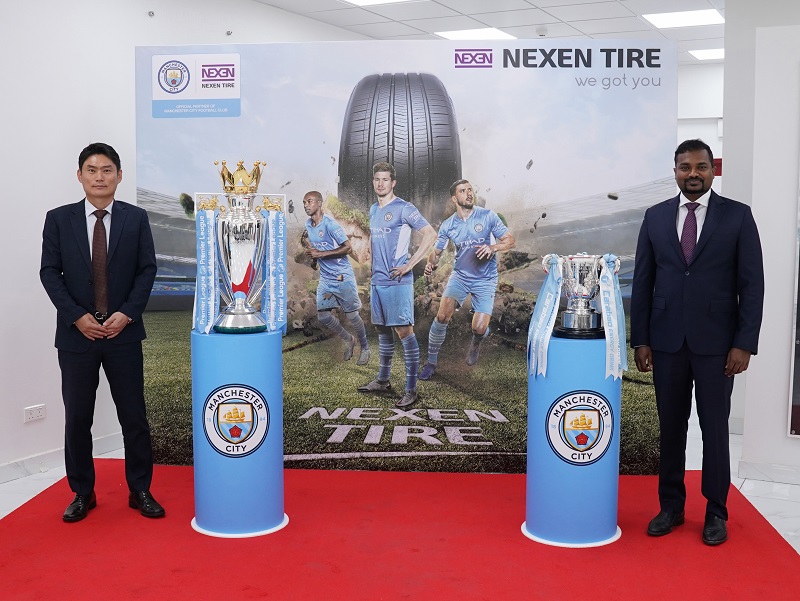 Dubai, November 8 2021: Presenting a rare occasion for clients and football aficionados, the UAE – based Al Saeedi Group hosted an event to showcase the winning MCFC trophies for Premier League and Carabao Cup.
In a statement, the company said the showcase was organized specially for the company's clients and football fans. The cups are on a global tour and partners of MCFC in the UAE have been organizing events to provide a rare opportunity for their respective stakeholders to take pictures with the trophies.
"The MCFC's Premier League Trophy and Carabao Cup are in the UAE only for a limited time and we felt that it is an ideal and one-time opportunity to provide our clients an occasion to be featured with the cups and be part of the football history," said Mr. Anish Malattiri, Managing Director – Al Saeedi Group.
Al Saeedi Group organized the event as it is the authorized distributor of Nexen Tire in the UAE. Since 2015, NEXEN TIRE has been an official partner of the world-class football club Manchester City.
################
About Al Saeedi Group:
AL SAEEDI GROUP was established in 1988 in the U.A.E has 10 State of the Art branches spread over 9 strategic locations comprehensively equipped with diverse product offerings and services. Through the years, the organizations commitment to quality service and an extensive product offering has helped them to grow into a major enterprise that excels in all spheres of the tyre industry. Over the past three decades, Al Saeedi Group has solidified its reputation as a specialist in tyre distribution and service solutions for fleets in Government/Semi Government Companies, Rent A Cars, FMCG, Logistics and various other industries. For more information, visit https://alsaeedigroup.com/ or follow them on LinkedIn.
About Manchester City Football Club
Manchester City FC is an English Premier League club initially founded in 1880 as St Mark's West Gorton. It officially became Manchester City FC in 1894 and has since then gone onto win the European Cup Winners' Cup, six League Championship titles, including four Premier League titles (2012, 2014, 2018, 2019), and six FA Cups. Manchester City FC is one of eleven clubs comprising the City Football Group and counts New York City FC and Melbourne City FC among its sister clubs.
Under manager Pep Guardiola, one of the most highly decorated managers in world football, the Club plays its domestic and UEFA Champions League home fixtures at the Etihad Stadium, a spectacular 55,000 seat arena that City have called home since 2003. Today, the Stadium sits on the wider Etihad Campus, which also encompasses the City Football Academy, a state-of-the-art performance training and youth development facility located in the heart of East Manchester. Featuring a 7,000 capacity Academy Stadium, the City Football Academy is also where Manchester City Women's Football Club and the Elite Development Squad train on a daily basis and play their competitive home games.
For more information, please visit www.mancity.com
About Nexen Tire
Nexen Tire, established in 1942, is a global tire manufacturer headquartered in South Korea. Nexen Tire, one of the world's fastest growing tire manufacturers, currently interacts with approximately 150 countries around the world and owns four manufacturing plants – two in Korea (Yangsan and Changnyeong) and one in Qingdao, China. Another plant in Žatec, the Czech Republic has also begun operation in 2019. Nexen Tire produces tires for passenger cars, SUVs, and light trucks with advanced technology and excellence in design. Nexen Tire supplies OE tires to global car makers in various countries around the world. In 2014, the company achieved a grand slam of the world's top 4 design awards for the first time amongst the various tire makers in the world.