-
NEXEN TIRE
's long-time partner Manchester City Football Club takes the EPL title, capping off a record-setting season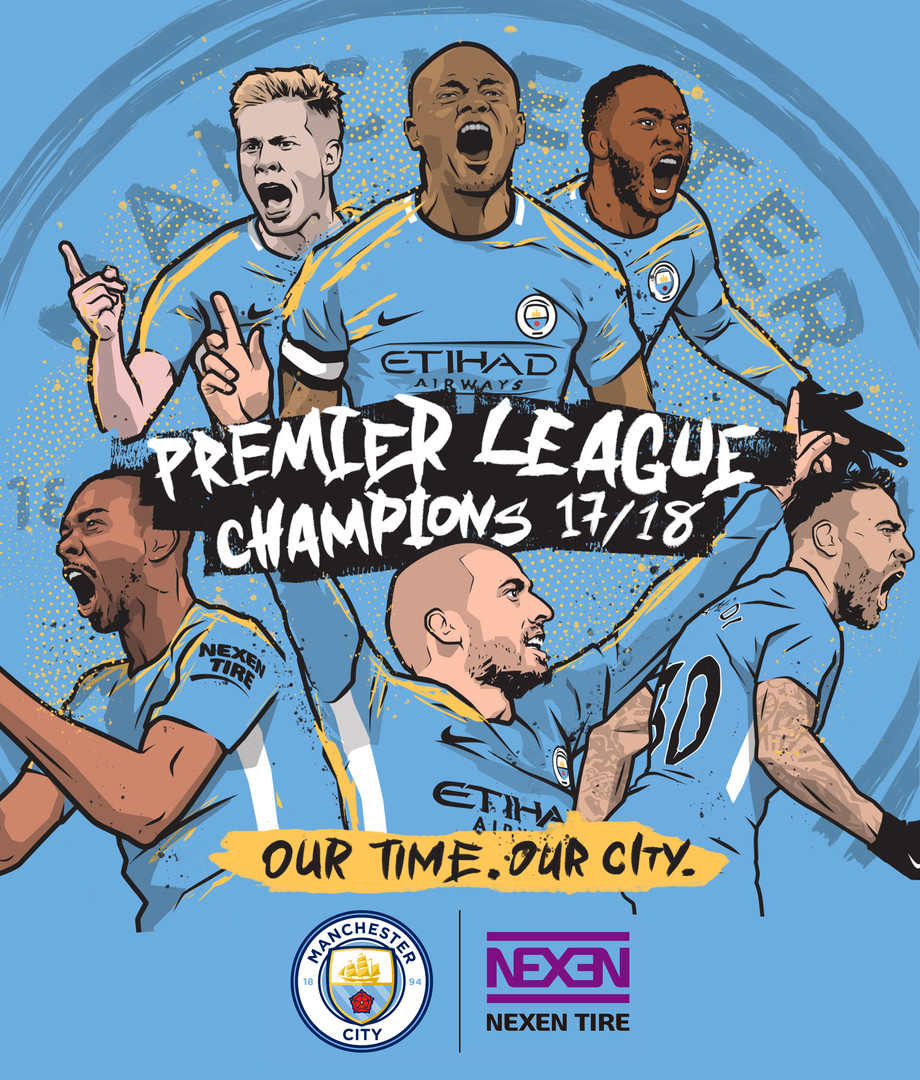 NEXEN TIRE, a leading global tire manufacturer, celebrates being the Official Partner of the Premier League Champions, as its long-time partner Manchester City Football Club (Manchester City) was crowned with the 2017/18 English Premier League (EPL) title this past weekend.
Manchester City sealed this season's victory by winning 3-1 in its match against Tottenham Hotspur hosted at Wembley Stadium last Saturday, April 14. With five matches remaining, Manchester City becomes one of the quickest clubs in EPL history to clinch the trophy, matching the league record set by Manchester United in the 2000/01 season. This will be the third time that Manchester City has become the champions of the EPL Campaign, with all of its titles coming in the past six years.
"As the Official Tire Partner of Manchester City, we are thrilled with the news that the Club has already confirmed its English Premier League Champions title," said Travis Kang, CEO of NEXEN TIRE. "It marks another great season for the Club's partner NEXEN TIRE, with Manchester City winning the English Premier League trophy and the Carabao Cup. We look forward to our continued strategic partnership with Manchester City to reach more fans globally and drive our brand awareness."
NEXEN TIRE will also release a congratulatory video featuring three of Manchester City's leading players – Vincent Kompany, Ederson Moraes and Benjamin Mendy – via company's social media channels, including Facebook (https://www.facebook.com/NEXENTIRE.GLOBAL/) and YouTube (https://www.youtube.com/user/nexentireglobal).
NEXEN TIRE extended its multi-year partnership with Manchester City in March 2017, becoming the first ever Official Sleeve Partner in the EPL history. The company has been increasing its global brand awareness through this partnership, and plans to continue its wide range of marketing efforts with the club.
Manchester City's EPL win will be officially celebrated on May 6, when the Club will lift its trophy at the match against Huddersfield Town. The Club's players have demonstrated unrivaled performance this season, including winning 18 straight matches, the longest consecutive win streak in EPL history. The team also won the Carabao Cup last February for the fifth time in the Club's history. NEXEN TIRE has accompanied Manchester City's victories as the team's Official Sleeve Partner, supporting and celebrating the Club's victories on the field.