● NEXEN TIRE boosts its sports marketing activities by launching a microsite organized to promote official partnership with Manchester City Football Club

● The website will provide various information regarding the partnership for both Nexen Tire customers and fans of Manchester City Football Club
● The company will continue to strengthen its global presence by actively utilizing various sports marketing activities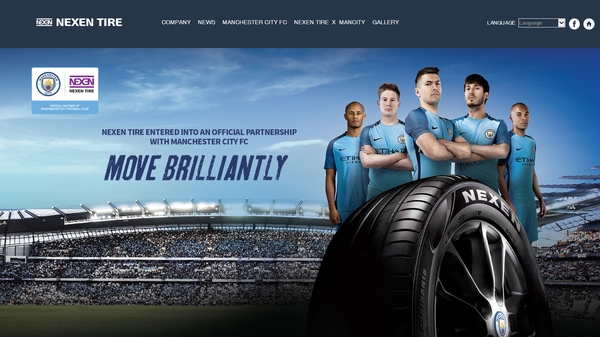 In an attempt to communicate with customers and fans more actively, Nexen Tire, a leading global tire manufacturer, announced on Nov. 8 the launch of a new microsite designed to promote official partnership with Manchester City Football Club (MCFC) as a part of its sports marketing activities. (The microsite can be accessed through following address: http://nexen-mancity.com)
In the website, customers of Nexen Tire and MCFC fans are able to get a glimpse of a variety of information such as introductions to Nexen Tire and MCFC, partnership activities, and a gallery showcasing MCFC's dynamic players in action. The website will also update the latest MCFC's match records as the club is at third place in the 2016-17 Premier League with only one loss(7 wins, 3 draws, 24 points) up to date.
"The ongoing partnership with Manchester City Football Club has helped Nexen Tire reach out to global customers and drew them know our brand well," Nexen Tire said. "We believe the opening of this microsite will also contribute to enhancing brand awareness and value among global automobile manufacturers, dealers, and customers alike".
Since the 2015–16 season, Nexen Tire has been a proud sponsor of MCFC, one of Europe's top football clubs and currently leading the Premier League this season. Utilizing its official partnership rights, Nexen Tire has executed various sports marketing activities such as holding customer appreciation events, presenting various media and in-game advertisements, and hosting events for business partners at the company owned hospitality box in MCFC's home field Etihad Stadium.
Nexen Tire continues to strengthen its global presence through diverse sports marketing activities in order to establish world-wide brand awareness and value. Along with the official partnership of MCFC and advertising agreement with the Italian Serie A, Nexen Tire's diverse portfolio of sports marketing activities include partnerships with three US Major League Baseball teams, BK Mlada Boleslav of the Czech Republic's Premier Ice Hockey League, and the Chiefs of the New Zealand Rugby League.