NEXEN TIRE's N'FERA RU1 selected as original equipment tires for the Porsche Cayenne – it is the tire manufacturer's first time supplying to Porsche
For NEXEN TIRE supplying Porsche proves the tire's superior quality and advanced-technology
By taking this momentum as a great opportunity, the company will strengthen the brand value through various premium marketing activities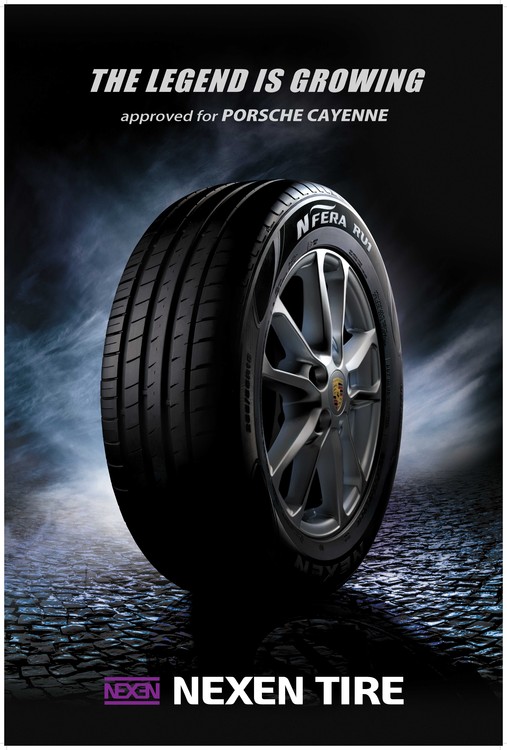 NEXEN TIRE, a leading global tire manufacturer, announced that it will supply the Porsche Cayenne with its N'FERA RU1 255/55R18 109Y XL as original equipment (OE) tires. This is the first time that NEXEN TIRE is supplying its original equipment tires to any of the Porsche car models.
In terms of the vehicle's sports driving experience, N'FERA RU1 has unparalleled cornering stability and sports handling for high-speed driving. It received grade A in the EU Labeling for its excellent wet grip. It also obtained Noise Level 1, the lowest noise level, in the EU Labeling.
Moreover, a 3D-Nano Grip Technology that maximizes the braking capability of a sports vehicle at high speeds, is applied, along with the Fast Reversible Technology, which optimizes the steering response and durability. The tire also has aramid hybrid capply cord and special bead filler compound that enhances handling stability.
"We are thrilled to supply original equipment tires for Porsche for the first time," said Travis Kang CEO of NEXEN TIRE. "As Porsche is a representative luxury carmaker with prestigious design and performance, this approval for the Porsche Cayenne proves the superior quality and advanced-technology of our products."
NEXEN TIRE plans to take this momentum as a great opportunity to boost the brand value by supplying original equipment tires to the premium car manufacturer. The company will also promote corporate identity and implement premium marketing activities, as well as endeavor to expand supplies of original equipment tires to other Porsche car models.
Since 2012, NEXEN TIRE has been continuously expanding supplies of its original equipment tires to various types of vehicles of leading global automobile manufacturers.
Meanwhile, NEXEN TIRE ranked 4th out of 12 tire brands in the Passenger Car segment of the J.D. Power OE Tire Customer Satisfaction Study last March. The company currently owns four cutting-edge research facilities in Korea, China, the United States, and Germany. It has three manufacturing facilities – two in Korea and one in Qingdao, China. By 2018, a new manufacturing plant is slated to be constructed in Zatec, Czech Republic to cater increasing demands in the global market.