● NEXEN TIRE's 'Green Hive', an environment-friendly concept tire, has been recognized by various global design awards for the third consecutive year
● Through continuous research and development, the company will continue to develop innovative products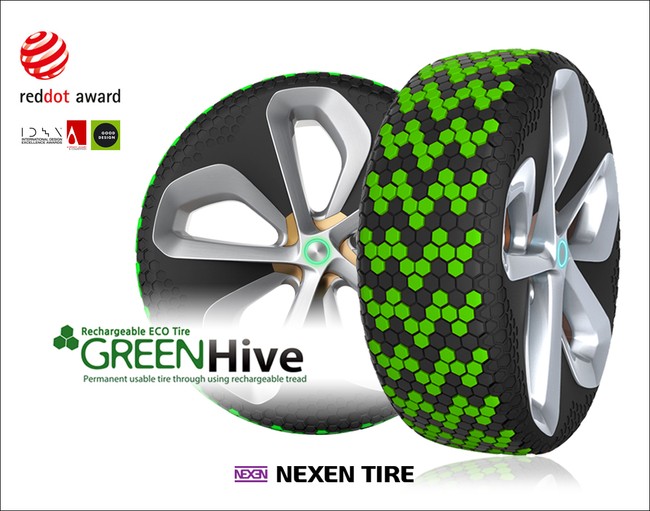 NEXEN TIRE, a leading global tire manufacturer, is pleased to announce that its environment-friendly concept tire, the 'Green Hive', has been awarded the 'Winner' prize in the category of Design Concept at the '2016 Red Dot Design Award'. This is the third consecutive year that the 'Green Hive' has been recognized by the international design awards community.
"Being the recipient of multiple world class global design awards highlights NEXEN TIRE's capabilities. We will continue to innovate and grow into a world leader in the international tire market," said Han Min-hyun, NEXEN TIRE Vice President and R&D Director. He added that, "The company will put further efforts to develop innovative and pioneering products through continuous research and development."
The 'Red Dot Design Award' is considered one of the world's three biggest design awards along with the 'International Design Excellence Awards (IDEA)' in the U.S. and the 'iF Design Award' in Germany. Evaluations are made based on innovation, aesthetic characteristics, applicability, functionality, and efficiency. This year's 'Red Dot Design Award' included applicants from over 60 countries and 4,698 products.
The environmentally friendly 'Green Hive' tire features a unique tread replenishment technology and has been praised internationally, winning awards at the '2014 International Design Excellence Awards (IDEA)', '2015 A' Design Award and Competition', '2016 Green Good Design Awards', and finally the '2016 Red Dot Design Award' this year.
NEXEN TIRE's 'Green Hive' is an innovative next generation tire that allows customers to simply buy and replenish depleted treads on a continual basis. For its semi-permanent use, the 'Green Hive' has received high scores on innovation, eco-friendliness, and economic feasibility. It has been also applauded for presenting a new paradigm in a conventional tire market.
The Red Dot Design Award ceremony will take place September 22nd, and wining products will be showcased in the Red Dot Design Museum located in Singapore.
Earlier this year, NEXEN TIRE was recognized for its product design quality by receiving multiple awards from the A'Design Award and Competition in April. Prior to that, NEXEN TIRE was awarded the Red Dot Design Award and silver awards at the A'Design Award and Competition in 2015. The company has already completed a clean sweep of the world's top four design awards, having picked up an International Design Excellence Award in 2014, a G-Mark award in 2013, a Red Dot Design Award in 2012 and an IF Design Award in 2011.